We're Getting a Dog
The birth of a child is an exciting experience. But I am almost as excited as I was with my daughter before the arrival of our four-legged new member to the family. Yes, we are getting a dog.
For years my husband used his veto when the topic of dogs came up. "You travel too much, there is no place for a dog" was always his convincing argument. Unfortunately he was right about that too. Because in my last editorial job as a beauty director of a the German Instyle magazine, I was on appointments and trips almost every week. I counted 36 flights in one year at Lufthansa alone, and that was no exception.
No dog in handbag size
Working as a freelancer now gives me a lot more freedom to organize my days, and ultimately, owing to Corona, I take much less air travel. The time for a dog is ripe. For months we discussed race, height, gender in the family. The pros and cons of a dog from a shelter or a breed. One thing was clear to me from the start: A "handbag format" is out of the question for me. I need my bag for myself. I also want a dog that walks on its four legs and doesn't need or want to be carried around.
A watchdog for me
My husband made the case for a Labrador? I think the silver-colored ones are beautiful, but unfortunately it is a fashion dog and I do not want to support any gene mutations brought about by irresponsible breeders that bring in a lot of money for them. It is not without reason that the breeders' association does not recognize the silver color of the Labrador. In addition, Labradors are famous for their constant hunger and therefore overweight. Even thrown away leftover food on the street and in the park, friends tell me, is not safe from them. Labradors aren't exactly known as watchdogs either. But for our living situations in Germany as well as in my second home Italy, I need a four-legged protector when I'm alone in the house.
My childhood dog
Finally we came across the dog breed, which also accompanied me with great joy in my childhood. An Airedale Terrier. In my parents' house we had two, father and son. With Astor or Bärle as minder, my mother could safely leave the stroller in front of every store. Any passerby who just wanted to take a look at the baby was driven away with a growl. And this largest terrier breed, which originally comes from Yorkshire, has one more advantage. Because of her trimmed fur, she is well tolerated by allergy sufferers like me.
So we agreed on an Airedale Terrier. I got the address of a reliable breeder through an acquaintance of my sister in Berlin. The lady has been loyal to this breed of dog from a certain breed in northern Germany for many years and has only had good experiences so far. "The waiting list would be long", the breeder said, "but most of the interested parties want a female". I prefer a male. So my chances weren't too bad. I learned: one of her female dogs would soon be mated, the little ones were expected for the end of July.
Disappointment and expectation
We were excited and were already counting the weeks. The pregnancy lasts two months and then another twelve weeks would pass before we can receive our puppy. In the meantime, my husband had made friends with the thought of the new family member and said, jokingly, "whether he should already paint one room light blue". The typical baby boy color.
Then came the bad news at the beginning of August. In contrast to her last two pregnancies, Jule, the female dog, had only given birth to one baby. The puppy was a girl, but fortunately healthy. Mother and child are doing well, as the saying goes. But we also got a consolation patch from the breeder. Ruby, another female dog, would have puppies in mid-September, they said. Now we are waiting for the next litter. The ultrasound showed seven pups. The breeder said we had a good chance that a male would be there for us this time …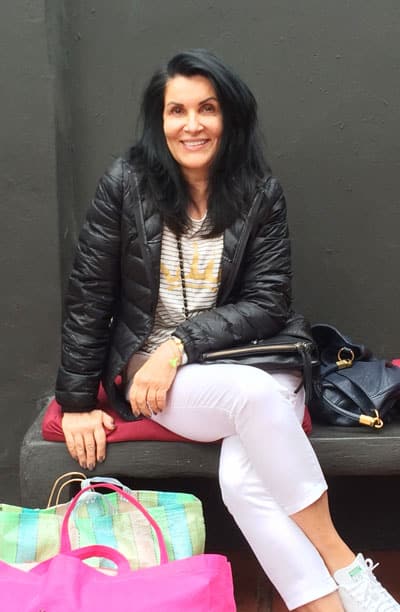 CultureAndCream Author from Munich
To travel during my profession as a beauty journalist was never enough for my. Also my six month on a world trip didn't do it. It always attracts me to other cities, foreign countries, on roadtrips and places I don't know yet. But I am not only interested in "culture" and "cream", I am also fascinated by people who have stories to tell .  Such unique experiences I want to share with you.