Tested for you: The new "Blush & Glow Duo Stick" from Kess Berlin
The Duo Stick has long been a cult item at Kess Berlin. As a purse-friendly everyday essential, I can't imagine doing without it for my daily facial makeover. It offers everything I love when it comes to make-up: a multitasker with which you can conjure up a complete, unexciting make-up in a "stick twist" that only takes a few minutes. I love!
Duo Stick: a mix & match concept
The upgrade of the vegan Iconic bestseller took two years of development. First, the exterior: The new more robust and user-friendly Duo Stick Case is made of lightweight aluminum in glossy white instead of the previous matte plastic shell. In addition, all external parts are coated with a special transparent and glossy protective lacquer.
This not only makes the Duo Stick easier to clean, but also gives it a higher-quality look and makes it more robust and thus more durable.Together with a more sustainable refill option, 43 percent plastic is saved. Since the used, empty refills still have to be disposed of, Kess has chosen polypropylene as the only mono-material for this, as it is easier to recycle and therefore more environmentally friendly.
Customized or off the rack
The new version of the Duo Stick offers endless customization options for blush and highlighter, as the refills can be replaced individually. You can always buy new shades and insert them into your Duo-Stick case without having to buy another one. If you don't want to do that, you can continue to use the Blush & Glow combinations pre-made by Kess.
I like the individualization and I have also immediately purchased the two new blush shades Flirt and Berry for the next few months. Inserting the refills at the end of the stick is easy thanks to a user-friendly click-in mechanism. You remove the cap of the empty case, click in the refill. When you hear the click, everything fits. Then you remove the clear safety cap from the refill and close it with the cap of the stick. Replacing a refill is just as easy: just pull it out to remove it!
Click – blush – glow
I am especially happy about "Flirt". The refreshing red tone with warm undertones is exactly my color. It looks really bright in the pencil, but blended thinly on the cheekbones it gives the perfect "naturally flushed cheeks" look with a satin matte finish. I also like to spread a touch under my brows, and applied a little thicker I use it instead of lipstick.
For this, I use my fingers to achieve not hard contours, but a slightly smudged effect. It looks more natural. When the days get shorter again, "Berry" will definitely be used more often. It is a rosy mauve shade with slightly cool undertones and a silky to matte finish as well. With this shade, you create the ideal balance of elegance and coolness in makeup.
Creamy as before
The inner values of the duo stick have not changed. Blushes and highlighters have the same creamy, moisturizing texture as before thanks to candelilla wax. They produce a natural, radiant complexion. Highlighters reflect light without the distracting glitter effect. The finish of the blushes is velvety-powdery and yet creamy.
The ingredients used are high quality: almond kernel oil nourishes the skin. Candelilla wax not only moisturizes, but also ensures a pleasant feel on the skin and a smooth, naturally shiny consistency of the product. Tocopherol (vitamin E) and oryzanol are proven and potent antioxidants to protect the skin.
Duo Stick Case and two Blush & Glow refills, 36 euros, available online at www.kessberlin.de. The single refill costs 18 euros.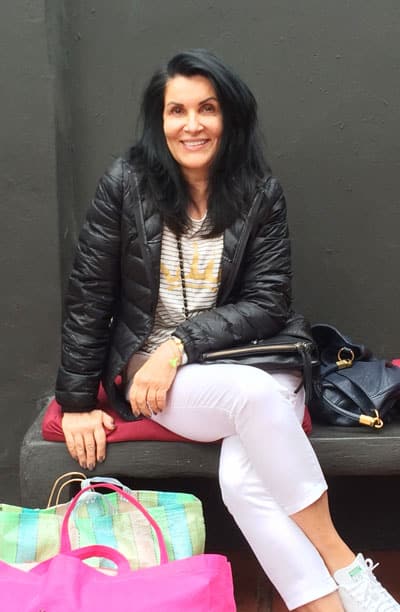 CultureAndCream Author from Munich
To travel during my profession as a beauty journalist was never enough for my. Also my six month on a world trip didn't do it. It always attracts me to other cities, foreign countries, on roadtrips and places I don't know yet. But I am not only interested in "culture" and "cream", I am also fascinated by people who have stories to tell .  Such unique experiences I want to share with you.