Tested for you: Powder Bronzer "365 Bronzer" by Kess Berlin
Powder bronzer belong with me very high on the hit list of my most important makeup products. Since I do not use foundation and blush only in extremely rare pale moments, I am a total fan of powder bronzer. Because they have an advantage that can't be topped by anything: You achieve the coveted sunkissed complexion quickly and easily, without looking made up and unnatural.
365 days powder bronzer
I use powder bronzer all year round. For example, if the winter was too long and my skin looks pale. In summer, I use it to prolong the vacation glow, and after a too-short night, it conjures up freshness on my face. What more can you ask from a beauty product than a 365 day sunkissed look.
"365 Days of Sunkissed Glow" is also the motto of the new powder bronzer collection from Berlin-based beauty brand Kess. The I wanted to try of course necessarily and have taken one of the three powsder bronzers in the palette of my daily essentials. Out of the three shades, I chose Light to medium. It's a neutral medium brown shade with warm undertones that is suitable for fair to medium skin tones, making it a good match for me because I want a very natural look.
There is also Fair to light, a light neutral shade with rosy-peachy, nude-brown undertones that is meant for very fair and light skin. This shade is cool enough for contouring, but at the same time warm enough as a bronzer. The third in the bunch, Tan to deep, is a rich, deep bronze shade with soft terracotta undertones that is suitable for tanned to dark skin tones.
Already almost gel-like
What I like about the "365 Bronzer" is the texture of the powder bronzer. It is very light, silky, almost gel-like and is super easy to blend. I use a thick handle brush or a short Kabuki for this, which is ideal especially for travel, because it is so small and handy. Hard edges, which would destroy the natural summer look, you do not have to fear with the powder due to its texture.
This is made with an innovative technology. Unlike many other powder textures that are pressed together from dry components, this one is based on a liquid, gel-like cream formula that then slowly dries to a solid powder. This retains moisture and freshness in the product, and the powder feels very creamy and light as air. 
Another special feature of the powder bronzer is its blur effect. It acts like a soft focus on the skin. It evens out the surface and ensures that fine lines and pores are visually reduced and appear as if they have been wiped away. The formulation is talc-free, water-resistant and enriched with brown algae extract, which has a visually pore-reducing effect, and supports the blur effect. Pomegranate and hibiscus extract have antioxidant power, they protect and nourish the skin.
Neither matte nor shimmering
The effect of the bronzer is neither matte nor shimmering, but velvety-soft and very natural. I apply it specifically to the typical sun terraces on the face, i.e. to the areas that the sun would tan the most – forehead, cheekbones and chin. If you add a second, darker shade, you can also achieve what is known as "tan touring" with its two bronzers. This slightly sculpting effect is a play with shadow and light. Individual parts of the face are visually moved into the background by the darker color and emphasized by the lighter shade.
By the way, all products of the beauty brand Kess Berlin are PETA-certified vegan and not tested on animals. The brand is produced exclusively in Europe (Italy, Germany) and does completely without parabens and PEGs. All products are dermatologically, or ophthalmologically tested.  
"365 Bronzer" von Kess Berlin, 3 colors, 35 euros each, available via www.kessberlin.de.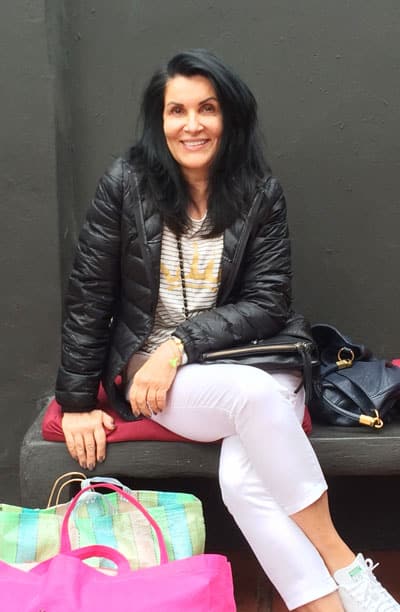 CultureAndCream Author from Munich
To travel during my profession as a beauty journalist was never enough for my. Also my six month on a world trip didn't do it. It always attracts me to other cities, foreign countries, on roadtrips and places I don't know yet. But I am not only interested in "culture" and "cream", I am also fascinated by people who have stories to tell .  Such unique experiences I want to share with you.