Beauty Timing For Face, Neck and Dekolleté
Beauty treatments are her profession. As a dermatologist, Dr. Tatiana von Bayern is an expert in the field of aesthetic medicine with laser and radiofrequency therapies. But also operative dermatology, phlebology as well as skin cancer prevention belong to her main areas of expertise. Here, the Munich doctor explains which beauty treatments are best scheduled and undertaken at which time of year.
For beauty treatments timing is everything. What applies to surprises, business planning and vacation trips is also useful for dermatological treatments. In minimally invasive and non-invasive treatments to improve and optimize the face, neck and décolleté, the perfectly chosen timing can influence the effect of the procedure and the regeneration afterwards. In this way, the seasons can become a supportive beauty helper.
Period May till September
In spring and summer, I do not advise beauty treatments that involve crusting, peeling or reddening of the skin. This is because, despite adequate sun protection, there is a risk of pigmentary shifts forming, especially hyperpigmentation, due to the increased UV rays at this time of year.
Therefore, for the warmer months, I recommend injection treatments such as Botox, hyaluronic acid, poly-L-lactic acid, calcium hydroxylapatite, PRP and mesotherapy. I like to combine these with more non-invasive treatments like Hydrafacial or Jetpeel for a radiant glow and pore-deep clean skin.
My extra tip:
Botulinum toxin is a very effective combination with which we achieve very good results. I use it against all mimic wrinkles and wrinkles of the upper third of the face including crow's feet in combination with hyaluronic acid fillers in case of volume loss or existing wrinkles. For a particularly natural effect, I recommend injections with poly-L-lactic acid for already wrinkled and sagging skin. This promotes elasticity and tightens the skin on the face, neck, décolleté, but also on the upper arms, abdomen, buttocks and legs.
Period January to April and October to December
The cold and dark months of autumn and winter are the ideal time to promote skin regeneration and new collagen formation. At Schlosspalais Dermatology, I and my team enjoy working with fractional laser and radiofrequency therapy, microneedling, and fruit acid and/or retinol treatments for this purpose. This time of year is also particularly suitable for the treatment of pigmentary shifts, sun spots and dilated vessels using lasers or IPL (flash lamps). The prevailing, lower UV content reduces the risk for pigmentary shifts in the skin, especially for permanent hyperpigmentation.
In addition, the cooler outside temperatures are perceived as pleasant because the skin is more irritated and sensitive than usual due to these beauty treatments. The complete regeneration time of the skin after laser or radiofrequency therapy is one month. For all invasive treatments, the combination with PRP (Platelet Rich Plasma – autologous blood therapy) is useful because it accelerates the regeneration of the skin. Furthermore, the platelets used in this process promote the formation of new collagen. Thus, PRP treatment is a wonderful synergistic effect to laser or RF therapy.
For maximum effect, I recommend each of these treatments as a course of treatment. Depending on the findings and skin condition, about three times a year at intervals of about four weeks.
My extra tip:
For example, an extremely effective and good combination in beauty treatments is flash lamp therapy to reduce sun spots and dilated veins together with laser or radiofrequency therapy to tighten the skin.
The treatments: Effect and advantages
Fractional laser and fractionated radiofrequency therapy
The aim here is mostly to improve the quality and structure of the skin and to tighten it. Small micro-injuries stimulate the formation of new collagen and the heat generated by these devices tightens the skin (collagen shrinking). These treatments are also suitable for acne scars.
Possible side effects: Redness and swelling of the skin for a few days, mild to severe crusting depending on the indication and device. Downtime: 0-7 days.
Maximum effect: completely visible 4 weeks to 6 months after treatment.
IPL (flash lamp)
In this application, the target structure is always the pigment in the skin. In the treatment of blood vessels it is hemoglobin, in the case of sun spots it is melanin. Heat causes closure of superficial blood vessels or vaporization of sun spots.
Possible side effects: Immediately after the treatment, the skin is reddened, may also swell a little. However, this usually subsides the next day. Treated pigment spots become darker for about two weeks until the skin is renewed. Downtime: none. Redness can be covered up.
Maximum effect: 2-4 weeks after treatment.
Microneedling
Similar effect to fractional laser or radiofrequency therapy. Micro-injuries are inflicted on the skin and new collagen is formed. Microneedling, however, has no thermal effect on the tissue. Therefore, this method is slightly less effective, but it is less expensive and involves less downtime.
Possible side effects: Redness, peeling of the skin after a few days. Downtime: 1-2 days. After that make-up can be used.
Maximum effect: 4 weeks – 3 months after treatment.
Hyaluronic Acid Fillers
Suitable for plumping up the skin e.g. for the tear trough, nasolabial fold, lips, midface. Also brings a slight lifting effect in the area of the cheekbones. Also used to define certain facial features such as the chin or chin line, or to correct anatomical features such as the nose. To refresh the entire face, non-cross-linked hyaluronic acid is used.
Possible side effects: Hematomas at the injection sites, nodulation, vascular occlusion. Downtime: none.
Maximum effect: immediately visible. The effect lasts 3-12 months depending on the product and application area.
Botulinumtoxin
Suitable for treatment of mimic muscles and reduction of their activity, especially in the upper third of the face (frown lines, forehead wrinkles, crow's feet). As a result, wrinkle smoothing occurs.
Possible side effects: Hematomas, asymmetry of the eyebrows. Downtime: None
Maximum effect: Is usually visible after three days and lasts 3-4 months.
PRP (Platelet-rich plasma)
The specially prepared (platelet-rich) plasma extracted from a small amount of the patient's own blood is injected into the skin and promotes the formation of new collagen and hair growth. It is used for therapy and prophylaxis of wrinkles and hair loss. Furthermore, as a supportive measure for chronic inflammatory skin diseases such as eczema.
Possible side effects: Temporary redness and swelling, punctate hematomas. Downtime: maximum 1 – 2 days.
Maximum effect: visible after 4-6 weeks. It is best applied as a course of treatment – three times at intervals of four weeks. The effect lasts about 6-12 months.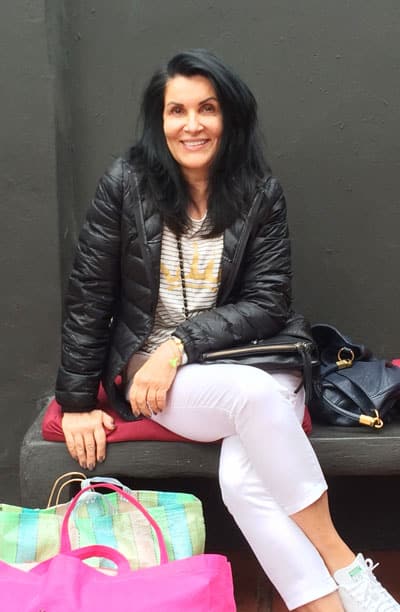 CultureAndCream Author from Munich
To travel during my profession as a beauty journalist was never enough for my. Also my six month on a world trip didn't do it. It always attracts me to other cities, foreign countries, on roadtrips and places I don't know yet. But I am not only interested in "culture" and "cream", I am also fascinated by people who have stories to tell .  Such unique experiences I want to share with you.