Tested for you: Professional hair dryer "SilkyAir Pro" from Silk'n
A new professional hair dryer. Dyson was previously considered the king of hair dryers, which are not only good to the hair, but also look ultra-stylish. But since January this year, the king has had competition – and from the Netherlands.
Smart hair dryer
The SilkyAir Pro is a hair dryer that not only looks good, but also has a lot to offer. First and foremost, it works with a premium water ion technology that deeply moisturizes the hair to prevent hair breakage. It creates more shine and less frizz, improves hair quality.
How this innovative technology works? It extracts water from the air and converts it into charged microparticles, which in turn penetrate the cuticle of the hair to maintain moisture balance. To prevent heat damage during blow drying, the SilkyAir Pro measures the air temperature 50 times per second. If the temperature rises too high, then it automatically regulates it down.
I do the test
Hair dryers have to perform quite well with my hair. I not only have a lot of hair, but also strong hair. The SilkyAir Pro feels good in the hand, and its three-meter cable gives me more than enough freedom of movement. At 75.7 dB, the hair dryer has a pleasant noise level, is not too loud.
The brushless motor reaches a speed of up to 110,000 rpm. This means that the concentrated airflow blows through my hair at an air speed of 76 km/h. This actually makes them dry ultra-fast at low temperatures. On the LED display, I can easily check which settings I have selected. Displayed are: three speed settings; six temperatures (39°C, 55°C, 65°C, 75°C, 85°C, 98°C); the cold air and the lock function.
Magnetic attachments
For different hair styling, the equipment of the hair dryer includes two magnetic attachments. Once the concentrator for precise styling through a faster and more concentrated air flow. In addition, there is also a diffuser, which uses long knobs to allow the air to penetrate more controlled and deeper into the hair over a larger area. It is ideal for defining curls.
Of course, the practical storage case, in which I store my SilkyAir Pro when I'm on the road, should not be missing. Because when I travel, my new hair dryer is always with me. With its size (254 x 124 x 124 mm) and its light weight of 628 grams, it has room in any luggage. Absolutely I must mention that the hair dryer has a self-cleaning function, so no more cumbersome cleaning is necessary.
And who is Silk'n?
The Dutch company is a leading supplier of professional beauty equipment for home use. The brand's goal is to provide technologies used in professional beauty institutions. Silk'n combines proven science with precise results and continuously launches innovative products. The portfolio includes silent sonic toothbrushes, LED masks for face, neck and hands, and hair removal devices.
Hair dryer "SilkyAir Pro" from Silk ́n, 250 euros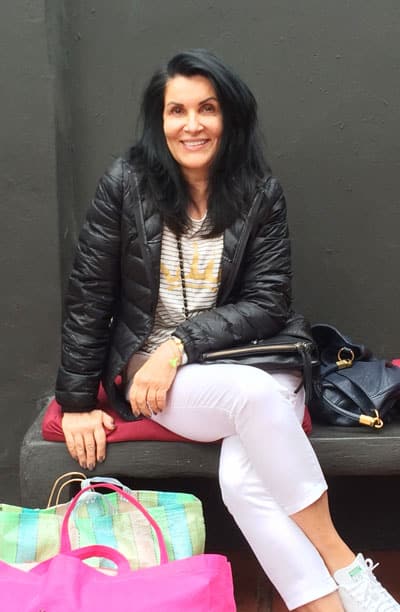 CultureAndCream Author from Munich
To travel during my profession as a beauty journalist was never enough for my. Also my six month on a world trip didn't do it. It always attracts me to other cities, foreign countries, on roadtrips and places I don't know yet. But I am not only interested in "culture" and "cream", I am also fascinated by people who have stories to tell .  Such unique experiences I want to share with you.