Homestory with Teresa Helbig
Born in Barcelona, ​​the designer was surrounded by beautiful fabrics in her mother's couture atelier from an early age. There she developed her sense of detail and precision. Together with their creativity, all of this defines their fashion brand. But Teresa Helbig is not only known for her exquisite fashion. Her sophisticated aesthetics are also reflected in her perfume collection. Our visit to her studio in Barcelona was therefore a very special experience.
"Every single day my mother taught me that much of the beauty of a great fashion creation lies in what you can't quickly see."
I really like that statement on your website. It reveals that you have an eye for detail. How does that show in your work?
The thing with our atelier is that the essential is invisible to the eyes, you need a keen eye to perceive all the details and all the meticulousness that we invest in our work. But, in the end, almost without wanting to, no matter how different they may be, all the garments adopt the same flirtatious, rebellious and seductive Helbig attitude, and that makes them unique to everyone's eyes..
What other advice did your parents give you?
You have to work in something that excite and passionate you, this is the only way to do extraordinary things.
The bulldog is your trademark. What's the story behind that?
Busa (an English bulldog) has been from the first moment my most faithful companion, my best friend. He is the silent witness of the showroom, he sees everything and is present in all processes. He likes to be pampered and to be photographed, he walks through the showroom, sleeps, observes… Busa entertains us, excites us and inspires us a lot.
How would you describe your fashion?
Teresa Helbig is seduction, tradition, provocation and passion. Combined with the talent and hard work of our team and the extreme quality of the materials, we are able to create pieces with a unique aesthetic and essence.
What inspirations influence your work?
"The Man Who Sold The World", la Costa Brava, Yves Saint Laurent and Pierre Bergé, Elle Fanning, Aymeline Valade, Bardot bisou bisou, Jane Birkin's eyelashes, the 'beau monde', cabinets of curiosity…
What about your work do you especially love?
Interesting women. When you work surrounded by a team like the one we have in Teresa Helbig and you have such a special connection with them, everything flows and doing beautiful things that make us feel passionate about is very easy.
Where do you draw your energy from?
The feedback of our clients.
What parts of Barcelona make you happy? Why?
My place… It's not always calm or peaceful (there's always people, which I like…), but it's kind and confident, all what I need to think, to be absorbed and abstracted from everything. I love also the Flowers By Bornay greenhouse, is a haven of peace and good taste in which I always feel good. It is one of the most beautiful spaces in Barcelona…
Thanks to Belle Rebelle and Ludwig Beck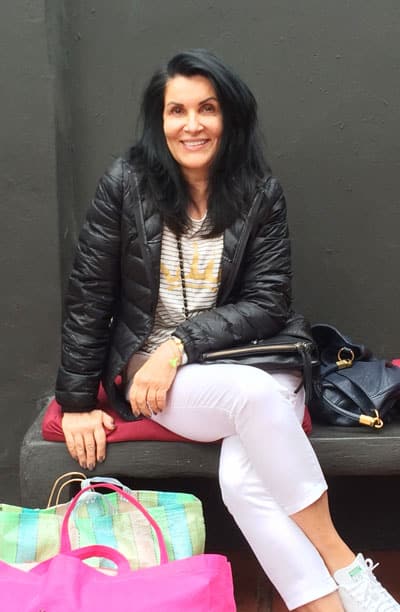 CultureAndCream Author from Munich
To travel during my profession as a beauty journalist was never enough for my. Also my six month on a world trip didn't do it. It always attracts me to other cities, foreign countries, on roadtrips and places I don't know yet. But I am not only interested in "culture" and "cream", I am also fascinated by people who have stories to tell .  Such unique experiences I want to share with you.