Tested for you: Hyaluronic acid concentrate "ha densimatrix" from mesoestetic
Hyaluronic acid (HA) in the field of skin care is not exactly a novelty. However, it is exciting when a brand like Mesoestetic launches a hyaluronic acid concentrate on the market. After all, the brand is the world market leader when it comes to medical cosmetics and cosmetic medicine. Mesoestetic belongs to Grupo Body esthetic Laboratories from Barcelona. The pharmaceutical company has been producing cosmeceuticals and cosmetic therapy devices of the highest quality for three decades.
Mesoestetic founder and CEO Joan Carles Font said:
"The excellence of our work, the efforts in research and innovation, and the proven efficacy of our products alone have brought us this far."
Hyaluronic acid concentrate with cushioning effect
Therefore, I was particularly curious to see what is in the azure blue 30ml pipette bottle. Already the name "ha densimatrix" is program: densification of the matrix. In skin, matrix is the part of the tissue that lies between the cells and surrounds them like a mesh.
The moisturizing and plumping anti-aging concentrate is intended to be active on several levels at once and provide long-lasting deep-acting hydration. Responsible for this is the Densimatrix complex, which combines hyaluronic acids of different densities (cross-linked, high, medium and low). An anti-hyaluronidase complex protects against HA degradation and blocks the effects of harmful external influences. Last but not least, the anti-aging pro-complex prevents loss of elasticity by promoting collagen and elastin synthesis.
The task of the hyaluronic acid concentrate is therefore: correction of age-related skin problems such as wrinkles, expression lines, loss of elasticity and tone.
Well moisturized
First, I test the hyaluronic acid concentrate on the back of my hand: The texture drips ultra-light and not a bit tough from the pipette. It is also absorbed immediately and does not leave this sticky feeling as is often the case with HA serums. For me, nothing speaks against applying the product on the face.
I clean my skin and dry it carefully. Then I put three drops – enough casually for face and neck – on my fingertips. On the skin I massage the product until it is completely absorbed. Goes quickly. You can hardly feel it on the skin, except that it feels well moisturized in no time. After that, I apply my cream with high UV protection as usual. But the concentrate can of course also be used under any other care product.
After six weeks of daily use in the morning and evening, my skin is actually already significantly plumper. Small wrinkles due to dryness have disappeared. And I find that my complexion has become more even overall.
"ha densimatrix" from mesoestetic 30 ml, ca 88 euro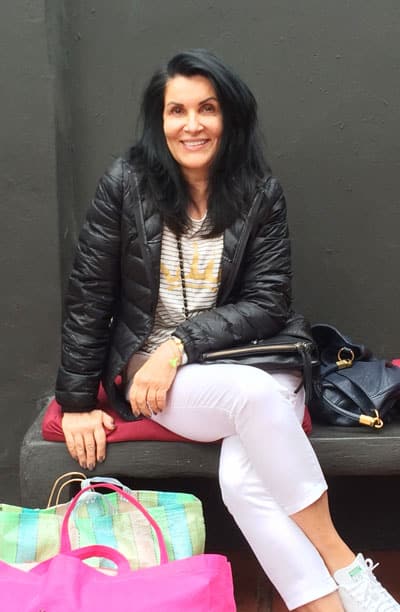 CultureAndCream Author from Munich
To travel during my profession as a beauty journalist was never enough for my. Also my six month on a world trip didn't do it. It always attracts me to other cities, foreign countries, on roadtrips and places I don't know yet. But I am not only interested in "culture" and "cream", I am also fascinated by people who have stories to tell .  Such unique experiences I want to share with you.