JetBoots Test: In "7-League Boots" To Greater Lightness
In mythology, the "7-league boots" have magical power. They give the "little thumb" the ability to cover long distances in a short time. The RecoveryAir JetBoots from Therabody also have a kind of magic power. You can't run with them – too high, too clunky – but blood circulation is boosted, muscle soreness is reduced and swelling disappears. In short: healthier and therefore more beautiful legs. Sounded so great that I wanted to try it for myself.
The JetBoots system is a mechanical massage that mimics the action of lymphatic drainage. Lymphatic drainage, which most of us have enjoyed after injury or surgery, is a manual therapy that requires special training. The therapist performs superficial circular twisting, pumping and scooping movements with little pressure. The goal is to stimulate the lymphatic vessels' own contractions and thus get the lymph flow going and decongest the tissue.
Big on the leg, nevertheless cool
With the compression boots, integrated pumps in the – as already mentioned – somewhat clunky foot parts replace the therapist's hands. The package of the JetBoots consists of the two black, long boots made of a strong, coated fabric like the ones used for medical products, plus a two-piece travel bag. There is also a 36W charger with a dual charging cable that allows both boots to charge at the same time. No hoses, no external pump. I think that's a good thing. The run time is four hours. You can use the two boots together, but also separately – which makes no sense to me.
My test starts on a Tuesday, right after I received the package. My JetBoots are size M, but they also come in L (for tall men and very tall women) and S, which affects the length and girth of the boots. The system is easy to understand, the instructions are plausible. Therefore, I also save myself from downloading the app.
It annoys me that nowadays you need an app for every poop and clutter up your phone. Fortunately, it is not a must-have here. That's because an integrated control panel with four self-explanatory buttons is located at the top of each JetBoots. I put them on while lying on the bed or sofa. Entry is via the elongated zippers that reach all the way to the foot section. With one push of each button on the control panel, you can set the four time intervals (20 min, 40 min, 60 min and continuous) and the 4 pressure settings (25, 50, 75, 100 mmHg).
Now it gets exciting
I start with the lowest level on a trial basis. The pressure builds up from the feet to the heart and back to the feet again. The technology of the JetBoots is designed so that the complete build-up and release of pressure occurs in exactly 60 seconds. Pneumatic compression is precise and uniform. The pump works audibly, but not annoyingly. However, the pressure of 25mmHg is too low for me. I'll try it with the other levels.
The next level up, which is 50 mmHg, is okay, but could be a little more. So 75 mmHg. That feels good already, but now I want to know and go to the maximum. At 100 mmHg, however, I feel like my feet are being squeezed uncomfortably hard. Quickly downshift again.
I finally settle at 75 mmHg and 60 minutes. That's just the right pressure for me and an hour in which I can comfortably relax, read or work on the computer. Honestly, I look forward to using it every day. Afterwards I feel totally relaxed, my legs are light and decongested. This is especially important for me because I just had hip surgery and can't do as much sports as usual.
Company with award
I want to know, who is actually behind the invention of JetBoots? At the helm of the tech wellness company "Therabody" are Dr. Jason Wersland, a Los Angeles-based chiropractor, and his co-founder Benjamin Nazarian as CEO. Both were honored last year as Entrepreneur Of The Year with the Greater Los Angeles Award. Yet the compression boots are not their first product. It began with the Theragun, which is now used by physical therapists worldwide and is also offered as a home-use version.
Dr. Wersland developed the JetBoots after a traumatic motorcycle accident he suffered in 2007. He says, "The accident left me with debilitating muscle and nerve pain. I searched for a solution, but I quickly realized that the only viable options were prescription drugs or surgery. I wanted something that would speed up my body's natural healing processes."
Initially, the chiropractor experimented with a discarded percussion drill and a ball-like attachment to make himself a massage tool. The tool was supposed to relax his muscles through vibration (percussion) and reduce pain. The prototype of his Theragun was born. It took more than eight years before the massage gun was ready for the market. It treats localized pain or tension with precisely adjustable pressure. It can also be used to reach difficult-to-reach areas such as the shoulder.
My conclusion
I like this background. I always find it confidence-inspiring when someone is behind a problem solver that they have developed and tested on themselves out of personal interest, and the product is not just based on marketing research.
Anyway, after six weeks of (almost) daily use, I am very happy with the result. My legs feel light and slimmer. The tensions especially in the calves have disappeared and I also find that the skin on the thighs is smoother.
As a journalist, I did get the boots as a test product, but I have since bought them. So I can slip into my JetBoots whenever my legs feel the need for it. At US$899, the RecoveryAir JetBoots aren't exactly a bargain. But when I do the math on how much I pay per session for manual lymphatic drainage, the Boots pay for themselves after 10 to 15 times. And the good thing about JetBoots: they're light enough that you can take them anywhere in their travel bag!
photos: therabody (2), private (4)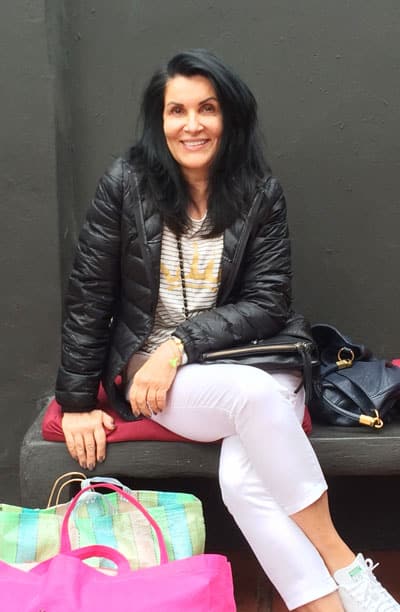 CultureAndCream Author from Munich
To travel during my profession as a beauty journalist was never enough for my. Also my six month on a world trip didn't do it. It always attracts me to other cities, foreign countries, on roadtrips and places I don't know yet. But I am not only interested in "culture" and "cream", I am also fascinated by people who have stories to tell .  Such unique experiences I want to share with you.