Tested for you: Peeling "Restorative Dual Acid Peel" by Kat Burki
The peeling that I currently use comes from an American natural cosmetics line, which is still little known in our country. Among insiders, however, Kat Burki is already considered a high-flyer. The nutritionist, who worked in the healthcare sector after completing her studies, has acquired a complex knowledge of nutrition and health over many years. From this background, Burki founded her own cosmetics brand in 2013, bringing the latest research findings to the development of her innovative beauty products. In the meantime, celebs such as Emily Blunt, Naomi Watts and Emma Willis – to name a few – are among the avowed Burki users.
Nutrient complex replaces water
What makes Kat Burki's skincare so special is that it does not use the fillers commonly found in cosmetic formulas, such as water, silicone or alcohol. Instead, each of her products is enriched with a synergistic super-nutrient complex. Instead of water, Burki uses a proprietary KB5 complex that supports skin elasticity and collagen production. It also stimulates microcirculation and strengthens the walls of small capillaries.
Burki chooses each active ingredient very consciously. All of them are highly active ingredients such as antioxidants, vitamins – especially vitamin C and B vitamins – plant stem cells, silk amino acids, neuropeptides, etc.. In the various combinations, they reinforce each other's power. In this way, "super active ingredients" with immediate effect and long-lasting anti-aging effect are created. All ingredients are free of animal testing and genetic engineering, come from organic cultivation and wild collection.
"Cold process" for more product effectiveness
It is also interesting that Kat Burki has introduced the first certified "cold process" in the cosmetics world. This means that all products are manufactured at low temperature. This ensures that the maximum effectiveness of all ingredients is preserved, because high temperatures reduce the quality and effect of vitamins, oils and antioxidants. Therefore, the cold-pressed oils contained in the rich formulas are extremely potent.
Deep glycolic peeling
The "Restorative Dual Acid Peel" is a retexturizing anti-aging treatment with dual benefits: It regenerates and soothes the skin at the same time. The glycolic acid in the peeling reduces sun damage. Plant-derived hyaluronic acid from the seeds of the Alexandrine senna refines skin texture and smoothes fine lines and wrinkles. Avocado oil, again obtained in a cold process, vitalizes the skin cells.
Works better with a brush
Meanwhile, I use the glycolic peeling for a month once or twice a week. After cleansing, I apply the peeling with the brush on the face, neck and décolleté. It is honey-yellow, thin and smells slightly acidic – well, clearly like glycol. The scrub feels pleasantly cool on the skin and can be distributed nice and evenly without anything running.
I am a fan of brushes in beauty anyway. I like the feeling when the brush light as a feather strokes over the skin. It also allows you to work much more precisely and in thinner layers than with your fingers. You should leave the peeling to work for a maximum of 20 minutes. I usually take it off after a quarter of an hour with a paper towel and rinse with lukewarm water.
Afterwards, the skin is baby soft and radiant. For care after the peeling, I use the Vitamin C Intensive Cream by Kati Burki. The two are an unbeatable team when my skin needs an energy boost again.
"Restorative Dual Acid Peel" from Kat Burki, 2 oz, $US 135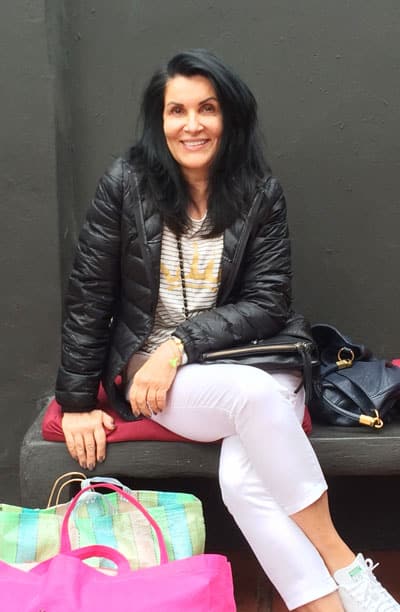 CultureAndCream Author from Munich
To travel during my profession as a beauty journalist was never enough for my. Also my six month on a world trip didn't do it. It always attracts me to other cities, foreign countries, on roadtrips and places I don't know yet. But I am not only interested in "culture" and "cream", I am also fascinated by people who have stories to tell .  Such unique experiences I want to share with you.