Tested for you: "Mumbai" from the Les Destinations fragrance concept
Mumbai (formerly Bombay), the capital of the state of Maharashtra, is one of my favorite cities in India. I love the densely populated multicultural metropolis on India's west coast. The city is lively, in some parts also loud and hectic some might say. But on every trip this fascinating place on earth I discovered something new when I strolled through the aromatically vibrating alleys with their tea stalls and cookshops.
Not to forget the famous andmarks like the stone archway of the Gateway of India. The grandiose monument was built in 1924 by the British colonial government at the port of Mumbai. Or the ancient Elephanta cave temples offshore on the island of the same name, dedicated to the Hindu god Shiva. And last but not least, Mumbai is the center of the Indian Bollywood film industry. There is always "action" there.
Mumbai love
No wonder that I have chosen from the six new fragrance creations of Les Destinations not Isparta, Madagascar, La Réunion, Sumatra or Al-`Uta, an Oriental oasis located on the Incense Road, but Mumbai. All fragrances bear the coordination of the respective destination. For Mumbai, they are 19°4′N 72°52′E.
The fragrance creation Mumbai is inspired by the alleys of the vibrant city with the aroma of the typical "Tea Stalls", mixed with notes of steaming basmati of the small rice kitchens. When I smell the fragrance, not only my nose goes on a journey, but my head cinema turns on as well. How the perfumers describe the unisex fragrance? Tangy, floral, distinctive.
Vibrant diversity full of contrasts
Mumbai as a fragrance beguiles the senses with tangy bergamot and the lush green fields of matcha tea leaves and rice. These top notes are followed by the heart of the fragrance, which consists of a floral bouquet of roses and violets blended with powdery tonka bean. The base is formed by striking cedarwood and musk nuances and a sweet vanilla-like seduction in the base.
Responsible for the now eleven creations of the Les Destinations collection are French experts of Haute Parfumerie, who process only the highest quality perfume oils. But the fragrances themselves are "Made in Germany".
"19°4′N 72°52′E Mumbai" from Les Destinations, 50 ml, 120 Euro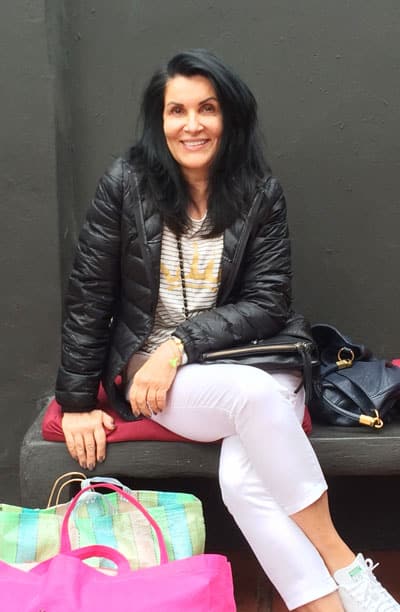 CultureAndCream Author from Munich
To travel during my profession as a beauty journalist was never enough for my. Also my six month on a world trip didn't do it. It always attracts me to other cities, foreign countries, on roadtrips and places I don't know yet. But I am not only interested in "culture" and "cream", I am also fascinated by people who have stories to tell .  Such unique experiences I want to share with you.