Tested for You: 3 Retinol Products for Face
Retinol has long been considered state-of-the-art in anti-aging skin care. There is hardly a skincare series today that does not include a retinol product. Why? Because it is a substance that has been well researched due to its decades-long use in acne therapy, and exerts many positive effects on the skin: Reduces the appearance of deep lines and wrinkles. Retinol helps reduce skin blemishes, resulting in clear, smooth and even skin. It also optimizes the skin microbiome by blocking unwanted bacteria. Acne scars and hyperpigmentation lose their conspicuousness. Last but not least, retinol also improves moisture balance, making the complexion plumper and more radiant.
In the meantime, however, there are so many new retinol products on the market that it is hard to know which one to choose. It is not only a question of quality, but also of the wallet. Therefore, I decided to test three products from different price categories:
Luxury: "The Retinol Serum with TFC8" from Augustinus Bader
Professor Augustinus Bader now has a whole range of products on the market. The latest addition is a retinol serum into which the research physician has again incorporated his patented TFC8 complex. To this he combines pure, therapeutic retinol – which is known to gently but effectively accelerate cell renewal. The redness that otherwise so often occurs is absent here.
The formula is complemented by a microbiome mix that supports a healthy skin microbiome, and Marine Ectoine acts as a deep moisturizer. A zinc complex helps regulate sebum production, while Japanese knotweed extract tracks skin enzyme activity for cleaner, smoother skin as well.
"Together, the formula optimizes the body's natural ability to repair itself for skin that is measurably refined and renewed, without discomfort or redness," says Professor Bader.
The formulation of the light serum is so gentle that you can use the product in the morning and evening. Always apply naturally on cleansed skin and also spread on neck and décolleté. The milky yellowish color is not a defect in the product, but typical of vitamin A. Vitamin A, by the way, is the generic term for a group of fat-soluble substances to which retinol also belongs. The dispenser in the typical Bader blue-bronze design is not only visually appealing and very high quality. The serum is also very economical, which may somewhat compensate for the high price.
"The Retinol Serum with TFC8" from Augustinus Bader, 30ml, US$ 350
Mid-priced: "Red" by Doctor Mi!
And another retinol from a Doctor brand. "Red" by Doctor Mi! contains double encapsulated TECMi!Retinol (vitamin A1). Double encapsulation makes it easier for retinol molecules to penetrate deep into the skin to do their work without sticking to and irritating the skin's surface. Of course, in addition to retinol, other skin goodies are included, such as oligo-hyaluronic acid and acetylglucosamine, ectoine, vitamin B5 (pantothenic acid), vitamin B3 (niacinamide) and the anti-pollution active Extremoin.
Doctor Mi! Founder Dr. Miriam Rehbein: "Red achieves great results and causes a wow glow of the skin within a very short time. Wrinkles, pigmentation and pimples goodbye!""
I was a little worried that the high-dose retinol in Red would further fuel my mild couperose on my cheeks. However, this concern was unfounded. The product is also well tolerated by sensitive skin. However, it should only be used in the evening and not daily. It is best to slowly feel out how much you can expect his skin individually.
I myself use Retinol alternating with a moisturizer. 1-2 pump strokes are enough for face, neck and décolleté. The Red texture is so pleasant and sufficient overnight that I do not need additional care. Sun protection during the day should be a given for everyone by now – and if you use retinol, even more so. One simply cannot deny that the highly effective substance makes the skin somewhat more sensitive to light.
"Red" from Doctor Mi!, 30 ml, US$ 199
Inexpensive and travel-friendly: "Super-R Retinoid Sleep Serum Capsules" from Oskia
This product I have discovered on niche-beauty, because I find the capsule dosage so convenient – especially when traveling. Just pack as many of the little midnight blue(!) Things as you need. The capsules contain a night care serum with retinoid, (which are chemical substances related to vitamin A), co-enzyme Q10, vitamin C, turmeric and DefinsilTM (rich in omega-3 fatty acids). Oskia speaks of a super-nutrient retinoid complex (retinoid, vitamin C & E and pro-vitamin D3) that firms, plumps and improves the structure of the skin. The vitamin C, because very sensitive, is encapsulated ascorbyl tetraisopalmitate, which penetrates deep into the skin to visibly tighten and brighten.
The application is very easy. The neck of the small, midnight blue capsule gently, turn over and press the serum into the palm of your hand. The clear, slightly oily liquid is easy to spread, not greasy and is also absorbed immediately. The manufacturer recommends applying a moisturizer or oil over it. I use the serum solo two to three evenings a week. Do not get in the eyes and apply sunscreen during the day.
"Super-R Retinoid Sleep Serum Capsules" from Oskia, 60 pieces, US $90 Euro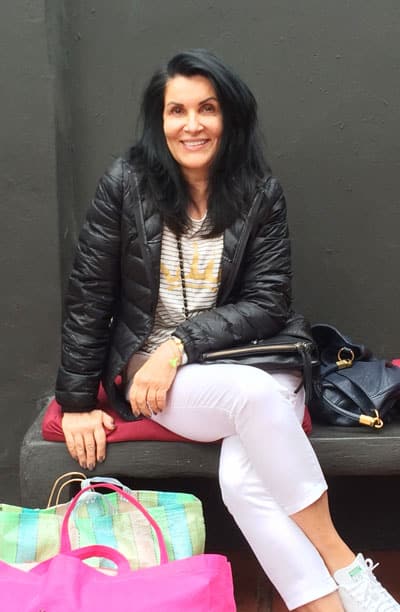 CultureAndCream Author from Munich
To travel during my profession as a beauty journalist was never enough for my. Also my six month on a world trip didn't do it. It always attracts me to other cities, foreign countries, on roadtrips and places I don't know yet. But I am not only interested in "culture" and "cream", I am also fascinated by people who have stories to tell .  Such unique experiences I want to share with you.