Tested for you: "Serum Mascara" and "Eye Make-up Remover" from Typology
A study by the University of Bristol recently proved that, contrary to all prejudices, men spend a lot of time studying the eyes of their female counterparts. Women, on the other hand, tend to look at men's noses. That honestly surprised me. All the more worthwhile to grow long, silky eyelashes, which make the eyes eye-catching with a dense wreath.
Serum Mascara serum with pea peptides
Practical I therefore find da new Serum Mascara. It offers mascara and serum in one. Enriched with 1% pea peptides, castor oil and vegetable keratin, it lengthens the lashes, nourishes and strengthens them in the long term. Pea peptides are a sequence of lysine-rich amino acids that are believed to have densifying properties. They stimulate the cells of the eyelashes and help keep them healthy.
The ingredients in the Serum Mascara are 95% of natural origin. There are neither silicones nor mineral oil. The brush is made of a 100% bio-based polymer derived from castor oil. The mascara serum is a hybrid formula between care and make-up. The lashes are not only strengthened by the combination of active ingredients, but at the same time coated with color like a regular mascara.
Lightweight application
I apply the Serum Mascara every morning religiously. It feels light on the lashes and leaves a natural finish. After about four weeks, I can see an extension of the hairs, but no densification. Maybe that still comes.
For make-up removal, Typology has simultaneously launched a two-phase eye make-up remover, which also contains 1% pea peptides and castor oil. Thanks to this concentration of active ingredients, it is also intended to strengthen and thicken the eyelashes. In addition, it is enriched with chamomile extract, which is known to soothe and decongest the eye area.
Shake well
I use the eye make-up remover. So that the two phases, the oily and the watery mix to a whitish emulsion, you have to shake it vigorously. Even waterproof products clean off well with it. What I also notice that the eyelashes are strengthened and fewer hairs fall out when removing makeup. Unfortunately, the oil phase always leaves a light film in the eye, which disappears only after some time.
Serum Mascara and Eye Make-up Remover are offered by Typology as a duo for £ 35.20. This does not quite make sense to me, because it does not mean any savings. The Serum Mascara (9 ml) costs £18.80 and the make-up remover £16.40 if you buy it separately.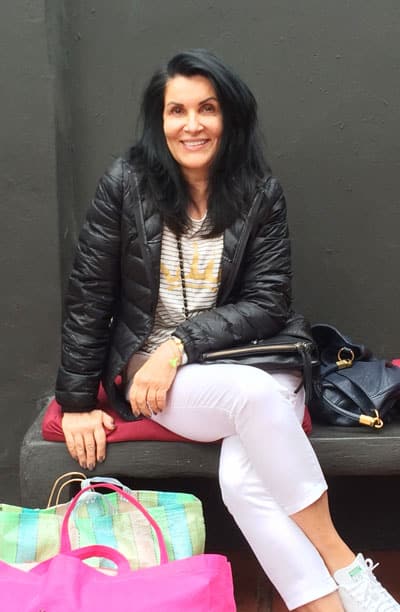 CultureAndCream Author from Munich
To travel during my profession as a beauty journalist was never enough for my. Also my six month on a world trip didn't do it. It always attracts me to other cities, foreign countries, on roadtrips and places I don't know yet. But I am not only interested in "culture" and "cream", I am also fascinated by people who have stories to tell .  Such unique experiences I want to share with you.