We need the Sun…
…but we must safeguard our skin from its rays as well. What is the most effective way to protect ourselves and what can be done if the UV rays have already caused skin damage.
Our relationship to the sun is ambivalent. We love it because it warms us, brightens our mood and gives our complexion a beautiful color. On the other hand, every sunburn increases the risk of skin cancer. So, here's a little test to see how well you know how to deal with the sun.
Did you know?
The sun protection factor (SPF) multiplied by the skin's own protection time indicates the amount of time one can be in the sun without any skin damage being caused. For example: SPF 30 at 10 minutes self-protection time, i.e. 30 x 10, results in 300 sun minutes with regular reapplication of sunscreen. However, dermatologists recommend moving into the shade after two thirds of the maximum time.
Self-protection is the period of time during which the skin can protect itself from the sun. Depending on the skin type, this ranges between 5 and 15 minutes in our latitudes. If a sunscreen product is used, it can be extended according to the SPF.
The amount of product necessary to provide adequate protection is more than you may think: About two milliliters are needed per square centimeter of skin, which corresponds to three tablespoons for the whole body. "Sun terraces" such as the forehead, nose, ears, neck, shoulders, décolleté and the arch of the foot usually need more.
Sun cream should be applied every two hours. This is the only way to maintain the level of protection, as sweat, water and sand tend to remove the UV filters. It's a common misconception, however, that that this prolongs the protective effect.
Sun protection filters are distinguished by two operating principles: Mineral UV filters lie on the skin and reflect sunlight like small mirrors. They consist of natural, white pigments such as titanium dioxide and zinc oxide. Chemical UV filters penetrate the outer layer of the epidermis and absorb the rays. Benzone, trisiloxane or drometrizole, for example, are listed on the packaging.
The UV rays have different wavelengths. While short-wave UV-B rays cause sunburn, long-wave UV-A contributes to skin ageing. The indicated sun protection factor (SPF) refers only to UV-B. For this reason, it's advisable to look for the UV-A seal on the packaging.
How does the expert protect herself?
Dr. Sonja Sattler, Dermatology expert and founder of the Bellari Institute, reveals how she prepares herself for exposure to the sun. "Because of my light skin type, I opt for a day care product with a sun protection factor right from the start," says the doctor. "This prevents not only sunburn, but light damage such as pigmentation disorders, age spots and wrinkles as well. Every morning after cleansing and before using my normal facial skincare product, I also apply an extra antioxidant serum to the face. This protects against free radicals, such as UV light, and strengthens the skin barrier".
What do you use in direct sunlight?

Dr. Sattler: "I use creams with a high sun protection factor on my face and hands both summer and winter. UV light is present all year round, but because the sun is much more intense in summer, the danger then is greater. On sunny days on holiday, it is best to apply a sunscreen suitable for one's skin type, and with a high protection factor, in the morning, preferably half an hour before leaving the house. Unfortunately, sun hats and caps are not my cup of tea at all, and I go swimming without a T-shirt. But at regular intervals, I make sure that I find a shady place to sit out of the sun. To be on the safe side, I recommend a sun cream with SPF 50+ regardless of skin type."
What do you use after sunbathing?

Even if sun, swimming-pool and sea do us good, they mean stress for the skin. "That's why it's important to provide sufficient moisture and oil as well (ideal: the individually customized body-care from Universkin)," explains Dr. Sattler. "Body lotions with Aloe Vera or urea are well suited as after-sun lotions. For the face I use an additional moisturizing serum (e.g. Hydrating B5 or H.A. Intensifies both SkinCeuticals).To keep the skin hydrated, it is also essential to drink enough fluids, ideally 2 ½ to 3 litres of water per day".
Professional help with sun damage
The sun's rays are ruthless, and skin cells have a long memory. Basically, our body has various mechanisms in place which work to repair any damage. If the damage accumulates, however, the system is weakened. It may take decades before this becomes visible, then one sees wrinkles, pigmentation such as age spots, redness and loss of elasticity, which is noticeable as a sagging of the facial contours. Exposed areas such as the cheeks, nose, forehead, décolleté and hands are particularly at risk. Cosmetic treatments that have a rejuvenating effect, in combination with methods of minimally invasive aesthetic medicine, are therefore in greater demand than ever in the Bellari. Through its subsequent self-healing processes, the skin renews itself step by step, all imperceptible to others.
Skin regeneration with the finest needles

Micro-needling causes micro-injuries to the skin, by which acne scars and small wrinkles are smoothed, pores minimized and the first signs of skin aging gently treated. The skin is treated precisely with ultra-fine needles at different depths without causing any real injury. The micro-needle pinpricks stimulate the skin to renew itself from within and the skin structure takes on a smoother and fresher appearance. For a visible result, six treatments at intervals of one week each are recommended.
Skin renewal with fruit acid

Regular fruit acid peeling by a trained beautician, preferably in combination with a supplementary home care product, refines the appearance of the skin step by step and makes large pores disappear. The fruit acid removes specific parts of the upper skin (epidermis) and stimulates the rejuvenating cell growth of the deeper cells of the epidermis. During the invisible healing process, the tissue regenerates and rejuvenates. In addition, after a fruit acid peeling, the skin is better able to absorb nourishing active ingredients.
Targeted removal of pigment spots

In Cryotherapy, individual pigment spots are treated with liquid nitrogen. The cold shock destroys the affected pigment cells which are replaced by healthy cells during the healing phase. With the energy of the Flash Lamp therapy IPL (Intensed Pulsed Light), pigment spots can be specifically dissolved so that they fade significantly. The short, intensive light impulses also eliminate fine wrinkles. The entire appearance of the skin is improved and refreshed. The Fraxel re:store DUAL fractionated Thulium laser is a laser treatment using state-of-the-art technology. It renews the skin surface and ensures the breakdown of increased melanin. In combination with the sieve-like damage to the dermis by the Fraxel re:store laser, the formation of new skin cells is stimulated. This, in turn, brings about a refinement and revitalization of the facial skin.
cryotherapy, Micro-Needling, skin damage, skin type, sun protection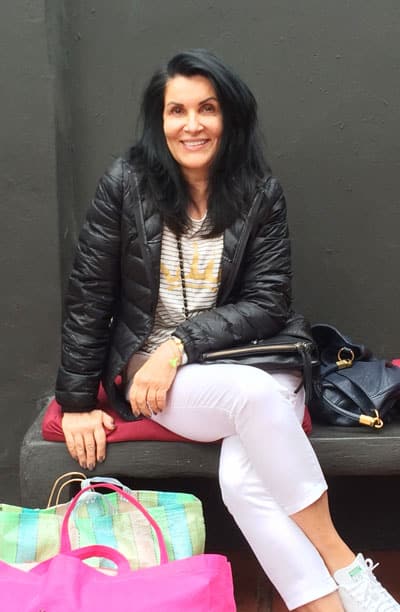 CultureAndCream Author from Munich
To travel during my profession as a beauty journalist was never enough for my. Also my six month on a world trip didn't do it. It always attracts me to other cities, foreign countries, on roadtrips and places I don't know yet. But I am not only interested in "culture" and "cream", I am also fascinated by people who have stories to tell .  Such unique experiences I want to share with you.