Yoga retreat: Om in Austria
Actually, I had booked a yoga week in Morocco with my sister Sabine last year. Because of Corona, it was repeatedly postponed and finally canceled completely. As a result, we both moved our event to Austria. "Om" now takes place in Dornbirn and not in Marrakech.
Did you know that both the syllable and the yoga symbol "Om" (pronounced "a-u-m") are considered sacred? They are intended to reflect the sound and symbol of the unity of the three worlds of Hinduism: earth, heaven and the underworld. It also represents the three main gods Brahma, Vishnu and Shiva. So our yoga week is serious business.
The modern F.X.Mayr cure, which is the actual the "daily bread" in the Rickatschwende health center, is even more serious, while Anna's yoga week only offers one highlight for guests. Or do you say patient? No, we're not sick, just health-oriented.
"Bread" is the keyword for this type of fasting anyway. But really good bread – something really delicious – is not available here. For breakfast and dinner – according to the doctor's diet plan – you are served a stale bread roll, a wafer-thin spelled flatbread or three pieces of crisp bread.
Chew training in the restaurant
They are all dry as dust. But they are not served as a stimulant either, but as a kind of training object. But stylish – on white porcelain on white-covered tables. Chewing every bite 30-40 times is the mantra of the therapy concept that the Austrian gastroenterologist Dr. Franz Xaver Mayr for the intestinal rehabilitation of his patients. And slow chewing is best practiced with tough stuff like a stale bread roll.
If there weren't additions served with it like cottage cheese, yoghurt or humus and a soup in the evening – admittedly tasty – I would hardly get it down. But we learn every aspect of mindfulness here – with ourselves, our body, our life, our environment. And that starts with eating. Can't hurt, I think, and keep chewing – 38, 39, 40. My sister chews so exemplary slowly that I fear that she will have to combine lunch and dinner with her fast-eating husband in future.
Yoga for the chakras
After drinking Epsom salts (uh!) – on an empty stomach – half an hour of morning gymnastics with an instructor at 7.30 a.m. and then breakfast with the chewing tool, the first yoga class of the week starts at 10 a.m. Anna is great, learned her yoga in India and offers a lot more than just the workout that is practiced in the name of yoga in many studios of the Western world. She built the 5 x 1.5 hour training units on the seven chakras. What are chakras? Here is a little digression: In yoga as well as in some esoteric teachings, it refers to the energy centers in the body that are connected by energy channels.
Unfortunately, I can't fully enjoy my first Anna lesson because the Epsom salt is obviously digging through my intestines. Nevertheless, after 1.5 hours I am surprisingly relaxed and could already fall asleep with Shavasana, the relaxation position at the end of each yoga training.
No wonder! I forgot to mention that I barely slept the first night at Rickatschwende. I idiot couldn't turn off the light over the bed. The main light switch did not do its job properly either, and the reception was no longer manned after 10 p.m. I didn't have a sleeping mask with me, nonsense, I don't even have one, so I tied a scarf over my eyes. Looked weird to scream, but I refrained from taking a selfie. Was too tired and frustrated.
Attacks of hunger? Nothing
On the second day, at 7 a.m., my lady doctor gave me half the ration of bitter salt. I hope that makes me a little more independent from the toilet. After morning gymnastics and breathing training with 20 minutes of continuous arm workout, I can barely feel my upper extremities. Never mind, I'll add another hour in the fitness center.
Then it's lunch time again. It's funny, when there is so little to eat, you look forward to every meal and sit at your place punctually at 1 p.m. We all can hardly wait for our meals – even if there is only one slice of pumpkin or three beetroot nubs on the plate. I'm usually not so keen on food, I wonder. However, my daily breakfast is extremely meager: sheep's milk yogurt (little), cottage cheese (even less) and three crispbreads. Nevertheless, surprisingly, I don't have any hunger attacks during the day, I'm full and feel fit. Well, not counting the headache on the first day. For free! Because of the detox.
Manicure de luxe
The seven days passed by in a flash. With yoga, fitness, Nordic walking, massages, swimming, sauna and an excellent manicure with Melanie – I have to mention that – because my nails have rarely been so beautifully manicured and perfectly varnished.
There was no boredom in our yoga hideaway. In the meantime, Sabine and I have also got used to the "mild drainage diet", as the Mayr doctors call it. We agree that we would have liked to stay another week. That's why we're already planning for the next time! My new Buddha bracelet made by Anna's aunt Adriana will remind me of it. By the way, the onyx and labradorite pearls stand for self-confidence and calm. One can always need that!
*This is an affiliated link. You don't pay more. It is just a little thank you for our team.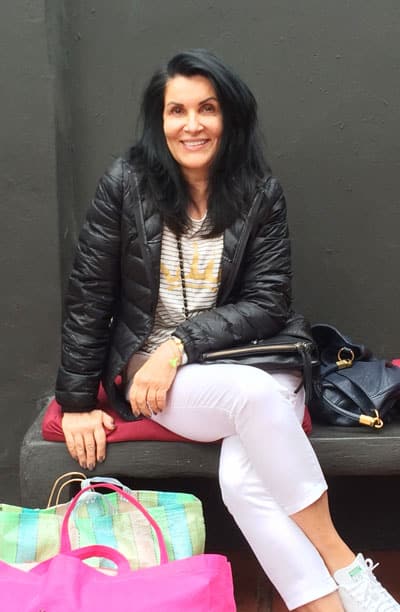 CultureAndCream Author from Munich
To travel during my profession as a beauty journalist was never enough for my. Also my six month on a world trip didn't do it. It always attracts me to other cities, foreign countries, on roadtrips and places I don't know yet. But I am not only interested in "culture" and "cream", I am also fascinated by people who have stories to tell .  Such unique experiences I want to share with you.