Aesthetics Trend Report: "The Future of Aesthetics"
Profound changes in global society are also having an impact on beauty. Insights into the future of beauty are provided by the new trend report from Allergan Aesthetics entitled "The Future of Aesthetics," in which Leonard Nenad Josipovic, MD, specialist in plastic and aesthetic surgery, contributed as an expert.
Aesthetics in transition. Leonard Nenad Josipovic says, "From the dissolution of gender identities to the metaverse, in the Trends Report we see how aesthetic medicine reflects and embraces the evolution of society and becomes a trend driver itself." The report is based on interviews with the world's leading experts in aesthetic medicine, as well as extensive research and analysis of market, industry and media reports, consumer and social media data.
Goodbye to the gender division
Since 2018, it has been possible to enter a third gender on an identity card in Germany. Stars such as Demi Lovato, Elliot Page or Sam Smith publicly describe themselves as non-binary or trans, series such as "Queer Eye" are conquering the screens and the LGBTQ movement is shaking up the previous understanding of the roles of men and women. Society is becoming more inclusive, and gender divisions are becoming less important. Particularly among younger Gen Z: 8 out of 10 respondents in a 2020 study said they believe gender no longer defines a person as much as it used to.
This upheaval in society is also causing a change in the beauty industry. While the image of beauty in aesthetic medicine was previously often based on the dichotomy of male/female, more and more doctors and clinics are consciously dispensing with this gender distinction. "For me, it is not relevant in a treatment whether patients* are male or female, non-binary or transgender or completely indeterminate," confirms Dr. Josipovic. "The focus is on the person with their personality – and how we can accentuate their individual beauty." Companies like Allergan Aesthetics are already addressing patients* in a gender-inclusive way and with one voice. This will only intensify: beauty is breaking free of gender stereotypes, gender boundaries and gendered beauty clichés.
Beauty becomes more flexible and mutable
Rigid facial expressions, bodies that look like plastic, unnatural or doll-like looks – these are yesterday's images of beauty. The aesthetics of the future no longer has fixed definitions. Instead, it's "Spot on!" to the individual idea of beauty – which can also be quite changeable. "Wishes, needs and also the bodies of patients* change over time," says the expert. "For example, a patient may find a voluminous pout attractive today, but a narrower lip shape in a few years."
That's why non-surgical aesthetic treatments are becoming increasingly popular: "Effects of minimally invasive treatments tend to be subtle and often only visible for a certain period of time," explains Dr. Leonard Nenad Josipovic. "As such, they allow patients* greater flexibility and are also less intimidating. No one today has to commit to a look for years." In a 2021 Allergan study, eight in 10 respondents said they would like to know more about non-surgical treatments. Eighty-one percent of respondents find these treatments more acceptable than they did five years ago.
Ethics in aesthetics: beauty becomes more responsible
Unqualified personnel, unapproved products, semi-legal clinics, and over-filling, the irresponsible over-treatment of patients: All over the world, and especially in countries with few regulations, dubious providers in the beauty industry put patients' health at risk. Combined with "horror stories" about failed treatments, this causes a loss of confidence in aesthetic medicine among potential patients. At the same time, people are exposed to a veritable flood of images in the social media: "fake beauty," dubious advertising and dubious offers spread unrealistic beauty standards and unsettle younger people in particular.
Ethics in aesthetic medicine will therefore become increasingly important. Serious doctors, providers and manufacturers are already campaigning for stricter rules and requirements for beauty treatments. They will continue to work to ensure the safety of patients in the future. For example, by pushing forward new laws, through quality standards for education and training, but also through responsible counseling and sound education of patients.
Welcome to the Metaverse: beauty goes digital
Sitting comfortably on the sofa while visiting a virtual beauty clinic with your digital self? Bringing the doctor you trust into your own virtual living room? Or would you rather upload a digital clone onto the Internet to see with him or her how the filler treatment would affect your own face? It sounds a bit like science fiction, but it is a possible new reality of the beauty world: In the Metaverse, a network of virtual, three-dimensional worlds that can be explored as a digital avatar. Although it's still elusive, the Metaverse will have a profound impact on our lives.
The Corona pandemic has already intensified the shift to digital life, including in the area of aesthetics: for example, doctors now almost take digital video consultations or Q&A sessions on social media for granted. Over time, more and more aspects of life will take place in the virtual world. The future generation will switch even more effortlessly between virtual reality and the real world – and the beauty industry will develop more and more offerings with gaming, virtual and augmented reality.
"Bio-hacking": more research on the aging process
Protecting the skin from the sun, taking the right care, moisturizing the body: beauty enthusiasts in particular know better than ever how to mitigate the signs of aging with simple tips. But they always want to know more about how they can slow down the body's aging process. Prevention is becoming increasingly important, and many patients are opting for minimally invasive aesthetics treatments earlier and earlier.
A 2019 U.S. study found that 74 percent of plastic surgeons* noted a 32 percent increase in minimally invasive procedures compared to 2016. People want to stop aging – but in the least invasive way possible. In line with this, the trend in the beauty industry is toward "bio-hacks" designed to slow down the aging process: DNA test kits for home use are designed to find out the individual epigenetics of each person, so that tailored treatments can then be used to halt the aging process.
There are already care products that are specially adapted to the measured hormone balance. Treatments with autologous fat promise skin rejuvenation, while special treatments are designed to stimulate collagen production in the body. Scientists in Silicon Valley are researching the biological reprogramming of cells to extend their lifespan. Israeli studies are investigating how DNA structures can slow down the aging process. The quest for a better understanding of the aging process is already in full swing, and the appetite for prevention and "bio-hacking" against aging will continue to grow – along with research and offerings from the beauty industry.
 Photos: Leonard Nenad Josipovic, MD (1), Allergan Aesthetics (4)
Aestetics trend report, Allergan Aesthetics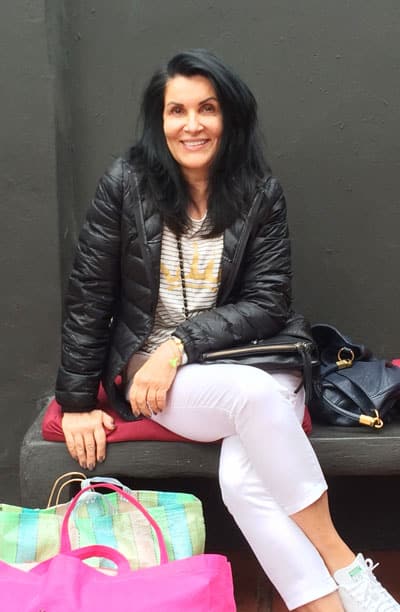 CultureAndCream Author from Munich
To travel during my profession as a beauty journalist was never enough for my. Also my six month on a world trip didn't do it. It always attracts me to other cities, foreign countries, on roadtrips and places I don't know yet. But I am not only interested in "culture" and "cream", I am also fascinated by people who have stories to tell .  Such unique experiences I want to share with you.