Tested for you: Self Tanning Spray "Antioxidant Face Tanning Micromist" by Coco&Eve
A self tanning spray, which has just come on the market, has aroused my curiosity. I never use makeup, but always use self-tanner when I feel too pale – like now in winter. In my bathroom cabinet already lives a respectable collection of tanning products, but among them there is so far no spray for the face that has really convinced me.
What distinguishes the "Antioxidant Face Tanning Micromist" from Coco & Eve: It contains not only natural tanning ingredients, but also antioxidants and moisturizing substances. The "Antioxidant Complex" is said to have rejuvenating and firming properties. It is said to boost collagen production by 93 percent, support antioxidation by 50 percent and reduce inflammation by 59 percent.
Self tanning spray with care competence
"HyalurosmoothTM" is an active ingredient cocktail of plant extracts similar to hyaluronic acid, which is said to increase the skin's moisture content by 40 percent in just 30 minutes and moisturize four times more effectively than conventional hyaluronic acid. Also included in the self tanning spray are Balinese plant extracts from Coco&Eve's home country such as passion fruit, which is known to be an effective moisturizer and smoothing agent for the skin. Watermelon provides the cells with rich beta-carotene nutrients, while coconut further supports the skin with moisture.
The innovative Micromist technology ensures even distribution and the optimal action of the ingredients. It actually releases a very fine spray mist at the "touch of a button", which covers the skin like a delicate veil. A pleasant feeling, as I could determine during my test. But one after the other…
My spray test
The first thing I do is clean my face and neck. As a precaution, I protect my hair with a headband. Not that afterwards my silver-gray strands at the hairline are yellowish discolored. Better safe than sorry. Shake the bottle well, the instructions say, and off you go. For an even distribution of the self tanning spray I spray with 20 centimeters distance three times with closed eyes over face and neck. However, none of the texture should get into the eyes. If it does, rinse with plenty of clean water.
Anyway, after spraying my skin feels quite moist, but commendably nothing of the transparent liquid runs. 30 seconds you are supposed to let it soak in. I better wait a few minutes before moving on to subsequent skincare. Yes, it's true. This is also extraordinary for a self tanner. You apply your skincare over it. Once the product is fully absorbed, you can use serum, eye cream, day care, etc. as usual. Despite the layers you may have put on top, a flawless, natural tan develops within the next six hours and lasts up to a week.
It does not get better than this
What I notice is that my skin already feels smoother and plumper after spraying on the self tanning spray, and it looks smoother overall. If the tint is still not enough for me the first time, I simply add more without the result becoming streaky. I also find it positive that there are no harmful active ingredients in the "Antioxidant Face Tanning Micromist". Like all Coco&Eve products, it is vegan, free of animal testing, silicone and parabens.
"Antioxidant Face Tanning Micromist" from Coco&Eve, 2.54 oz, US$ 29,90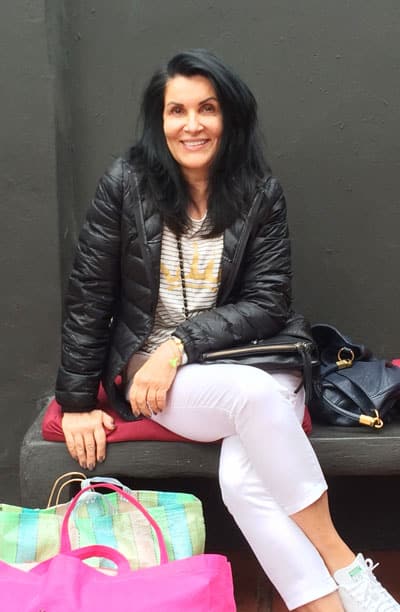 CultureAndCream Author from Munich
To travel during my profession as a beauty journalist was never enough for my. Also my six month on a world trip didn't do it. It always attracts me to other cities, foreign countries, on roadtrips and places I don't know yet. But I am not only interested in "culture" and "cream", I am also fascinated by people who have stories to tell .  Such unique experiences I want to share with you.