Tested for you: "Body Cream" from Feuerstein
New body cream from the Swiss beauty brand. This care line is more than just a high-quality natural cosmetics. It combines in its products the perfect blend of natural ingredients with active ingredients from modern cosmetic research. Refined with harmonious fragrances, it is a feel-good brand that contributes to inner balance.
Natural cosmetics from the Engadine
The Feuerstein brand has its origins in the Engadine and the ancestral knowledge of the soothing effect of the tart alpine herbs. At the beginning of the 20th century, the Grisons explorer and photographer Domenic Feuerstein recorded his impressions of the local nature with its plants in numerous books and poems. In 2005, his granddaughter Madlaina Feuerstein designed the first line of her natural cosmetics in S-charl. The former miners' settlement is located at 1800 meters in the municipality of Scuol. Surrounded by pine forests, mountain meadows and steep peaks, the remote village is now only inhabited in summer.
"We take people on a daily sensory journey to their inner sources of strength. Nature is our guide."
— Mara Wulkan, owner
In 2019, Mara and Oliver Wulkan took over the Feuerstein brand. But the values have remained the same for over 19 years. The company is still headquartered in Engadine, and all products are still processed exclusively from sustainable raw materials in Switzerland.
Luxurious body cream
The first thing that caught my attention was the look of the body cream. The flat, round glass jar with a black lid looks clean and high quality, but is made of 100% recycled glass. Then come the sensory qualities. The "Body Cream" is not a plain body cream, but a rich butter in texture. It feels creamy and nourishing on the skin thanks to shea butter, mango butter and an oil extracted from the sweet almond (Prunus Amygdalus Dulcis Oil), which has skin-protecting and antioxidant properties.
Even rough and brittle areas like on the knees or elbows become velvety soft again. Even my very dry skin on the lower legs has lost its winter "gray haze". For me, the body cream from Feuerstein is the ideal product from neck to toe – especially in the winter, when the dry air and thick clothes clog the skin. The slightly fruity scent additionally increases the feel-good moment. Oh yes, and the cream is absorbed super fast and it is vegan as well.
"Body Cream" from Feuerstein , 200 ml, 72 Euro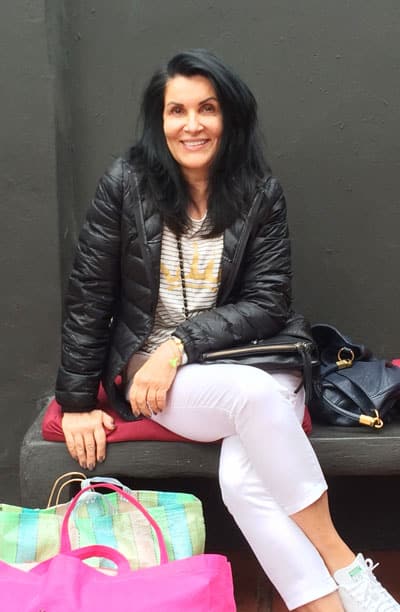 CultureAndCream Author from Munich
To travel during my profession as a beauty journalist was never enough for my. Also my six month on a world trip didn't do it. It always attracts me to other cities, foreign countries, on roadtrips and places I don't know yet. But I am not only interested in "culture" and "cream", I am also fascinated by people who have stories to tell .  Such unique experiences I want to share with you.