Buy Perfume by Mouse Click – Does it Really Work?
Online sales figures have now also risen in the perfume sector. But does that really work if you want to buy a fragrance that you've never smelled before? Fragrance search engines or fragrance finders are supposed to help you avoid making the wrong purchase.
The global market volume for perfume is estimated at around 46.5 billion U.S. dollars in 2021. The proportion of fragrances sold online is just as high as in bricks-and-mortar retail. It averages around 40 percent. But who is the target group for online fragrance order? "It makes sense, for example, for people who reorder their perfume," says Martin Ruppmann, Managing Director of the Association of Distributors of Cosmetic Products (VKE). One would assume that mainly people in rural regions would use the option of online platforms so as not to have to travel to the city specifically. This is contradicted by the experience of Berlin-based start-up Flaconi, which says it was able to triple its sales last year: "Rural dwellers may have further distances to travel, but big city dwellers have less time."
Avoid Internet mis-purchases
Shopping online is convenient and saves time. To avoid disappointment when choosing a new perfume, it is important to choose a reputable online store. Especially in digital perfume shopping, it is easy to fall for fakes. Especially via platforms such as Amazon and Ebay, third-party dealers, usually based abroad, offer alleged brand fragrances at a lower price. At first glance, a well-made fake is often not even recognizable as such. Not at all in photos, because the packaging and logo are sometimes perfectly copied. And as far as the online platform is concerned, it offers no guarantee whatsoever that the product delivered to your home is actually an original one. What you then hold in your hand and spray onto your skin is often not only visually different from the original. It smells different and sometimes also contains inferior ingredients that can cause skin irritations and allergies.
Not only industry giants like Douglas or Sephora sell their perfumes online. In times of pandemic, even many small perfumeries have established an online store. If you want to support companies that you are not familiar with, you should check the imprint in each case before ordering. It is crucial that the company's registered office shows a real, stationary address. This is not only mandatory for every online store in Germany, but also makes it less costly to return the perfume if you are not satisfied.
The agony of choice
To get a new perfume, you should give yourself enough time to choose. Corinna Mosler-Jakobsohn, owner and managing director of Belle Rebelle GmbH in Berlin, recommends that you orient yourself to fragrances that you like. Once you have chosen a few perfumes, you should read the description carefully. Her second tip: Many online stores offer samples that you can order. If not, ask nicely if they will send you some. Thirdly, the fragrance expert advises: "If you order a perfume but are unsure, then order a sample of this fragrance directly with it. Try the sample first." This has the advantage that the original remains packaged for the time being and you can send it back if you don't like the scent.
With the help of artificial intelligence
What used to be the tablet in some fragrance boutiques, where you could take a kind of Anamnes of your preferred scents and eventually get some "tailor-made" perfumes suggested, is now the Fragrance Finder. The website of wikiparfum.fr (only in English, Spanish and French) helps to find a new favorite fragrance or even a perfume gift. You can search by brand or by ingredient, which in turn are divided into groups from Aldehyde to Oriental. In addition to the classic grouping, there is also a section called "Conceptual" with unusual accords like Asphalt, Cocaine or Vinyl. You click on the fragrances you like and get corresponding perfumes suggested.
The search for a fragrance gift works similarly. To do this, you enter the brand in the Wikiparfum search mask on the home page, which first lists the ingredients of the named fragrance. Using a button at the bottom of the page, you can then call up alternative fragrances that match the fragrance profile of the perfume you entered. Among them, you will find well-known brands as well as niche perfumes that you don't smell on every corner.
Recently, Douglas also launched an AI-based "Fragrance Finder" on the market. As with Wikiparfum, the Spanish group Antonio Puig is behind the search engine. The family-owned fashion and perfume company includes a huge portfolio of own brands (e.g. Paco Rabanne, Jean Paul Gaultier, Nina Ricci) as well as licenses (e.g. Prada, Comme des Garçons). The search functions at Douglas are similar to those at Wikiparfum, except that you have to enter two favorite fragrances and cannot search via ingredients to get suggestions. Instead, you can order the fragrance right here by forwarding. Disadvantage: Only fragrances that Douglas has in its range are recommended.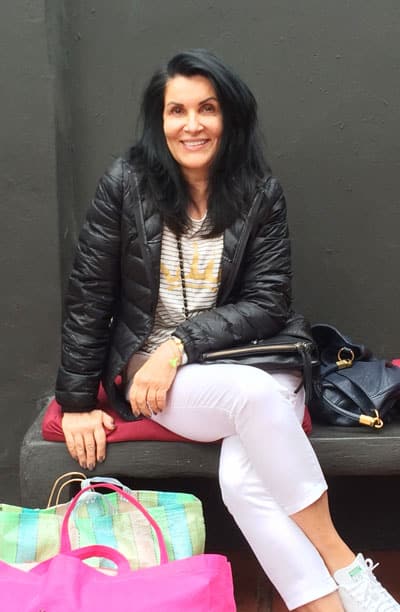 CultureAndCream Author from Munich
To travel during my profession as a beauty journalist was never enough for my. Also my six month on a world trip didn't do it. It always attracts me to other cities, foreign countries, on roadtrips and places I don't know yet. But I am not only interested in "culture" and "cream", I am also fascinated by people who have stories to tell .  Such unique experiences I want to share with you.